Fully Operational with Expanded Resources
Click for the latest on how KEYENCE is continuing to support our customers with quick delivery, off-site testing, virtual demos and more.
Photoelectric Sensors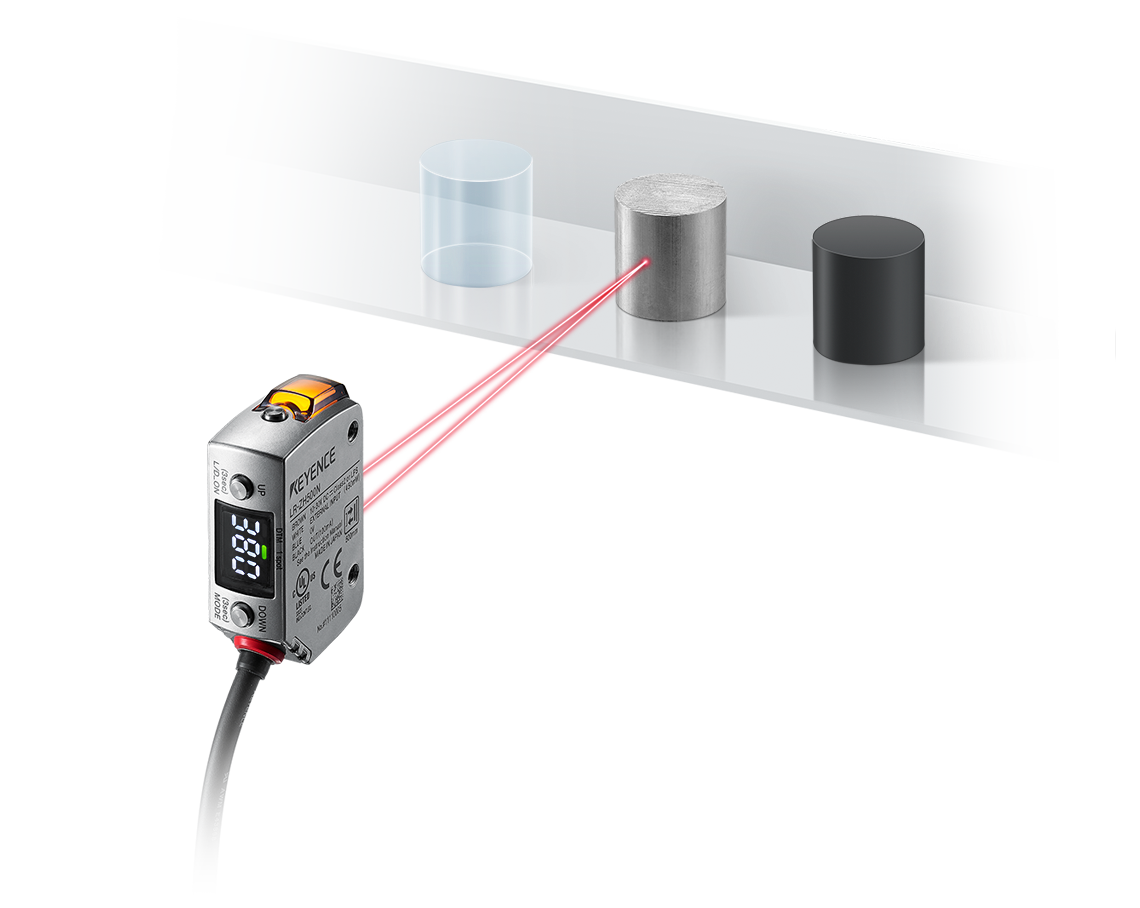 Laser sensors are used for detecting presence based on position or light intensity. Benefits include long range, a visible beam spot, and precise detection. These devices have a small footprint and have options to withstand the most demanding environments.
Self-contained Photoelectric Sensors
This Full-Spectrum sensor features unmatched detecting capabilities that allows it to complete the simplest to the most complex applications with ease.
The LR-T Series of reflective sensors represents a seamless fusion of innovative technology and robust functionality.
Detection is often difficult with reflective sensors for a variety of reasons, including target colour, material, surface finish, and environment. In order to solve these issues, the stability of a CMOS laser has been combined with the versatility of a self-contained sensor in a heavy duty metal body to create a more stable and user friendly general purpose sensor.
High-power, dual LED-type photoelectric sensors for improved performance and ease of use.
Automatic calibration type. Virtually eliminates all detection and stability problems inherent with conventional photoelectric sensors.
The PZ2 series micro-optical sensors with built-in amplifiers are small, waterproof, and have the ability to detect transparent objects.
Self-contained, Long-distance, Small-spot Photoelectric Sensor with visible light
Separate Amplifier Photoelectric Sensors
High environmental resistance & cable extension capabilities provide increased installation versatility
The new PX Series heavy-duty industrial photoelectric sensors. Rugged industrial sensors designed for use in harsh environments.
Separate amplifier photoelectric sensors employing a variety of sensor heads; including ultra-thin compact and chemical-resistant variations.
Separate Amplifier Photoelectric Sensor with head variation
Compact, More space-saving Amplifier-in-cable Photoelectric Sensor
AC/DC Multi-power Supply Photoelectric Sensor
Quick Response Sensor detecting φ0.5 mm
Low cost type of expandable area sensor
RGB Color Sensors
Digital, 7 light colour combinations RGB fibreoptic sensor with 16-bit accuracy. Including a new UV sensor head, lustre detection head, 2-colour digital display and unique colour element detection. Detects targets conventional sensors cannot.
Digital, RGB fibre optic sensor with 2-colour digital display and 3 sensing modes. Detects targets conventional sensors cannot.