Programmable Controller
KV-8000 series
Programmable Controller
KV-8000 series
Machine Operation Recorder Function
Identify the cause of problems and ensure quick recovery
PLC with built-in operation recording function.
Features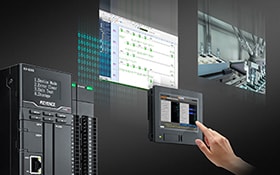 Reduce downtime through recording, playback, and analysis. Recording of all devices
Quick recovery with the ability to know the cause of problems and to perform fundamental countermeasures.
Positioning/motion control system KV-X MOTION
From positioning with limited axes to multiple-axis synchronisation control, customer requests are varied. The KV-X MOTION is designed to be a system capable of meeting a wide range of requirements.
Fully ladder-less networking KV-X COM
Connect seamlessly to FA devices and PLCs.

Programless PLC networking
Support of 4 Major Networks
The ONE PLC bringing a whole new concept of speed & storage
Introducing a new world of applications triggered by outstanding response.