High-speed 2D Optical Micrometer
TM-3000 series
High-speed 2D Optical Micrometer
TM-3000 series
Multi Outer Diameter Measurement System That Can Be Used Both Inline and Offline
Simultaneous outer diameter and step measurements of multiple points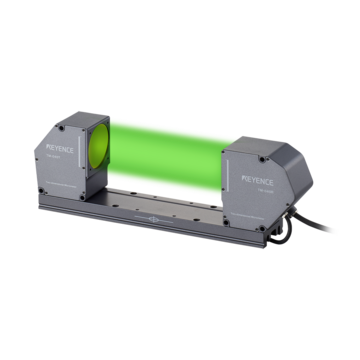 Performs in line 2D dimensional measurements with high speed and precision.
Applications
Drill bit outer diameter measurement

Measuring targets on an index table

Measuring engine valve dimensions

Measuring robot transferred targets
Features
Outer diameter and step measurements of multiple points can be performed at the same time, which reduces the takt time.
The dimensions of up to 16 locations can be measured at the same time from the acquired silhouette.
Moving targets can also be measured with no blurring.
Even though this is an optical comparator, the high-speed sampling and position correction function enable stable inline measurement.
This product can be used stably for a long time at any worksite, which reduces the amount of maintenance work that is required.
KEYENCE's proprietary optical design eliminates the need for moving parts and also eliminates deterioration caused by surge noise.