Fibre / Cable

KEYENCE provides the fibre and cable industry with measurement and inspection sensors that deliver the speed and reliability required to meet customer demands. Check out some of the application examples below.
View Catalogue
Non-contact thickness measurement enables 100% inspection without impacting cycle time. The quad spot laser of the CL-3000 enables high accuracy measurement of rough or hairline surfaces.
Confocal Displacement Sensor
CL-3000 series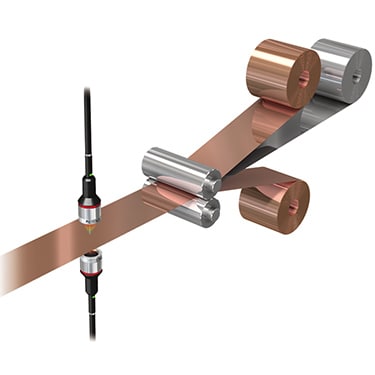 Check the internal diameter of wire drawing dies after re-grinding.
High-speed 2D Optical Micrometer
TM-3000 series

Measure width/diameter during tensile testing. Inspect up to 16 areas at once, then record or output the data for analysis.
High-speed 2D Optical Micrometer
TM-3000 series

Laser profilers make it possible to inspect the width and shape of flat cable. Check for conductor position and width on cables of any colour or material.
High-speed 2D/3D Laser Profiler
LJ-V7000 series

Profiling the outer diameter of a coated cable enables detection of dents or unevenness that would be impossible to catch using a thrubeam sensor.
High-speed 2D/3D Laser Profiler
LJ-V7000 series