The three technologies that support our ability to provide optimum static elimination with the lowest air volume in the world
By using the first supersonic structure ever developed in the history of ionisers, KEYENCE has increased the speed of ions past the speed of sound, which makes the fastest static elimination in the world possible with an extremely low air volume.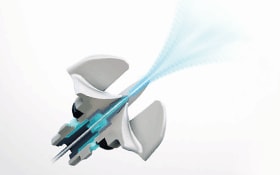 Optimum static elimination& Energy saving
We have used de Laval nozzles, which are used in supersonic jet engine technology, in the electrode probes to realise our supersonic structure. The air speed exceeds the speed of sound, which enabled us to rapidly improve the speed at which ions attach to the target. In addition, the shape of the electrode probes, which makes use of fluid mechanics, pulls in the surrounding air to increase the air volume. These two technologies are what enable static elimination at high speeds and over a wide range with the lowest air volume in the world.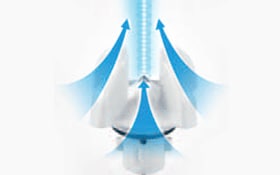 User comment
We have recently developed a highly functional remote control that enables bidirectional communication with our ionisers. This remote control provides you with the static elimination status and alarm information in the palm of your hand. What's more, it enables you to easily configure operation settings such as detailed ioniser adjustments and electrostatic charge monitor sensitivity settings.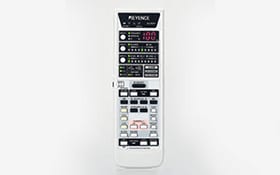 Applications
SJ-E Series Ultra High Speed Sensing Ioniser Hybrid Type Applications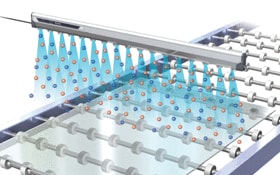 Download Catalogue

SEE IT IN ACTION!
Your KEYENCE direct sales engineer can bring the product to your facility for a live demonstration. KEYENCE's sales engineers are highly trained and have extensive industry experience to help you find the solution you need.
APPLICATION ASSISTANCE / SUPPORT / MORE
Need more information about one of our solutions? Want a price quote? Have a support question? Contact us with your enquiry and your local product expert will reach out to you with the best answer.
Have a quick question or prefer to reach out by phone?
+65-6392-1011 (1800-396-5010)
*Callers will be directed to the nearest sales office.
Download Catalogue

For visitors who viewed this page
{"bottomHierarchy":"4","bottomObjectId":"WS_SR55059","bottomModelId":"","bottomAssetType":"Other document","bottomAdLocal":"recoassetbottomsuz","thumbnailFilePath":"/img/asset/","recommendDownloadUrl":"/download/download/confirmation?"}