Seamless Integration Into Equipment
If the light curtain is mounted on a frame using the above method, the depth is a mere 15 mm compared to the 31.5 mm of the conventional model.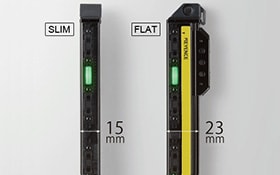 Quick and Easy Installation
Built-in mounting brackets and simplified wiring.

Easily Identify Operation Status
The status indicators can be illuminated in three colours — green, red, and orange — by activating an external input, making it possible to use them as work instruction lights.

Built-in Durability and Functionality
Environmentally resistant, durable housing
Download Catalogue
SEE IT IN ACTION!
Your KEYENCE direct sales engineer can bring the product to your facility for a live demonstration. KEYENCE's sales engineers are highly trained and have extensive industry experience to help you find the solution you need.
APPLICATION ASSISTANCE / SUPPORT / MORE
Need more information about one of our solutions? Want a price quote? Have a support question? Contact us with your enquiry and your local product expert will reach out to you with the best answer.
Have a quick question or prefer to reach out by phone?
+65-6392-1011 (1800-396-5010)
*Callers will be directed to the nearest sales office.
Download Catalogue
For visitors who viewed this page
{"bottomHierarchy":"4","bottomObjectId":"WS_SR57112","bottomModelId":"","bottomAssetType":"Other document","bottomAdLocal":"recoassetbottomsuz","thumbnailFilePath":"/img/asset/","recommendDownloadUrl":"/download/download/confirmation?"}