Easy to Use
New features include the easy to clean, clog resistant structure with a highly visible indicator and display. Simplicity is at the centre of the GP-M's design.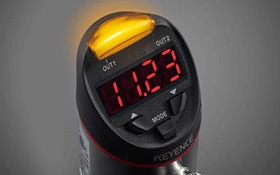 Easy to Install
The GP-M's hex shaped design, rotatable display, and user-friendly setup simplify installation. Headaches during setup are a thing of the past.

Easy to Select and Standardize
Selecting a GP-M Series sensor is easy because KEYENCE offers six different types, compatible with gas or liquid. The rugged design of the GP-M stands the test of tough factory environments. Additionally, it is easy to replace existing pressure senors with the new standard GP-M.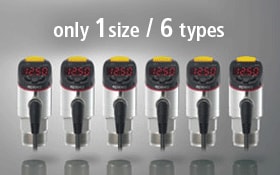 Download Catalogue

SEE IT IN ACTION!
Your KEYENCE direct sales engineer can bring the product to your facility for a live demonstration. KEYENCE's sales engineers are highly trained and have extensive industry experience to help you find the solution you need.
APPLICATION ASSISTANCE / SUPPORT / MORE
Need more information about one of our solutions? Want a price quote? Have a support question? Contact us with your enquiry and your local product expert will reach out to you with the best answer.
Have a quick question or prefer to reach out by phone?
+65-6392-1011 (1800-396-5010)
*Callers will be directed to the nearest sales office.
Download Catalogue

For visitors who viewed this page
{"bottomHierarchy":"4","bottomObjectId":"WS_SR51901","bottomModelId":"","bottomAssetType":"Other document","bottomAdLocal":"recoassetbottomsuz","thumbnailFilePath":"/img/asset/","recommendDownloadUrl":"/download/download/confirmation?"}